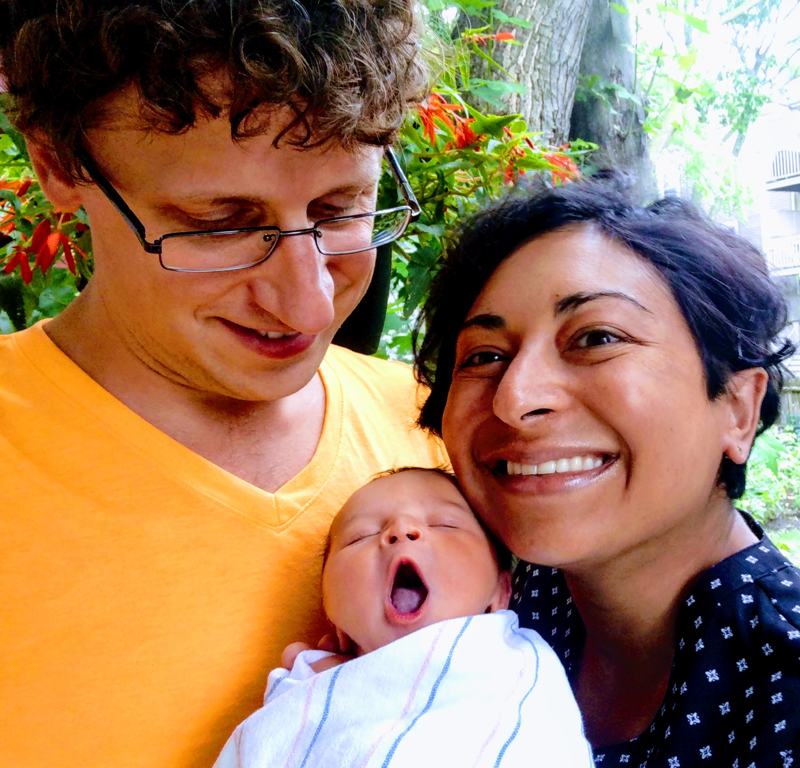 It is the joy of my life to announce that two days ago, at 12:13a on July 23, 2017, Sonia and I welcomed our daughter Daruka Vallabh Minikel into this world. She was born at Massachusetts General Hospital and arrived weighing 3,375 g (7 lbs 7 oz) and measuring 49 cm (19½"). She and Sonia are both doing great.
In addition to sharing the happy news that Daruka ("duh-ROO-kuh") has arrived, we also want to share a note about how this came about.
Sonia and I always wanted to have kids, but when we learned that Sonia had inherited a fatal genetic mutation from her mother, it threw us for a loop. One thing Sonia and I both knew, in our gut, for absolute certain, was that we would never let ourselves be in the position of telling our daughter that she was at risk for this fatal genetic mutation the way that Sonia's father had to tell Sonia nearly six years ago. We are blessed to have had success with in vitro fertilization with pre-implantation genetic diagnosis (IVF/PGD) to create an embryo, now a beautiful baby daughter, who doesn't have Sonia's mutation.
We'll both be out on parental leave for a while, after which we will get back to our life's work of developing a drug to prevent genetic prion disease in this generation — in Sonia. But in the meantime, we are grateful beyond measure that we have already been able to pass a healthy genome on to the next generation.
comments powered by

Disqus